The Car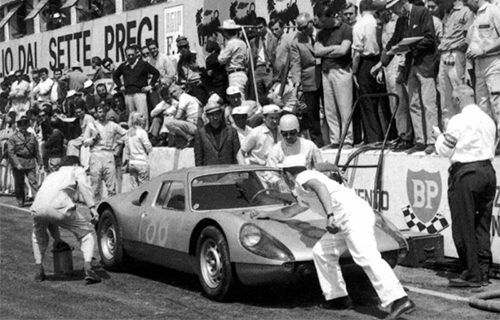 The name Porsche bestowed on the model was "Carrera GTS", though most refer to it as the Porsche internal project title of "904".  By FIA regulation, Porsche needed 100  built in 1964 for GT Class homologation, and they had no trouble selling them. The complex but reliable 4 cam Carrera engine was placed amidship, generating 180 hp in the 2.0L guise from 310 pounds dry engine weight. A Fiberglass body fit atop a ladder frame. These Carreras weighed just 1500 pounds dry.  The first Porsche not to use rear swing-arm suspension, with the 904 relying on coil springs.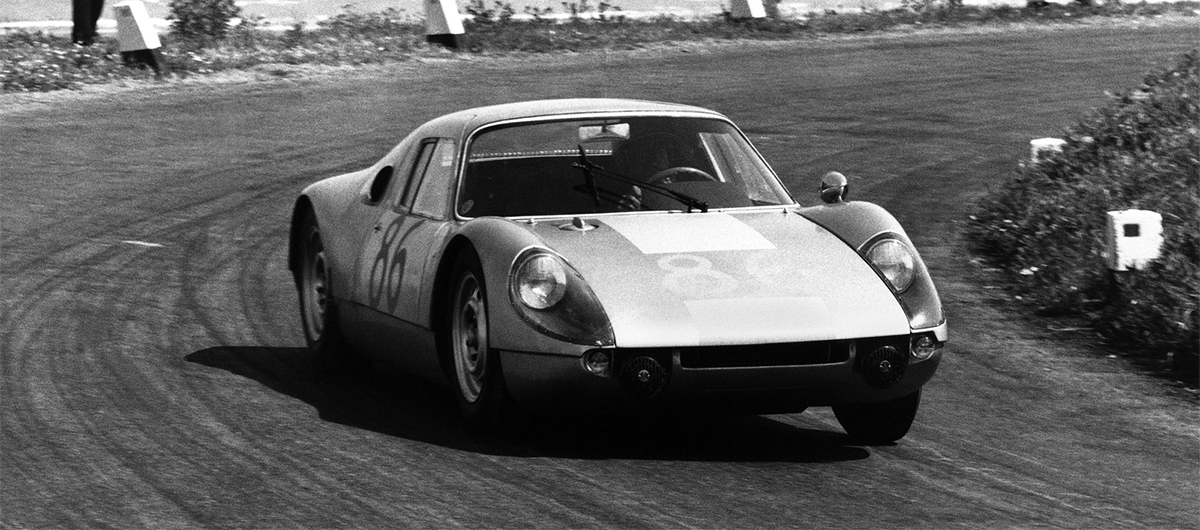 Twenty more were also built in 1964-1965 to satisfy on-going GT Class demand — and also to provide the Factory Team Prototype Class cars. Twelve such cars were built with the 911 flat six cylinder and 2 litre displacement, and six built with the flat eight 2 litre derived from the now-defunct Porsche F1 program.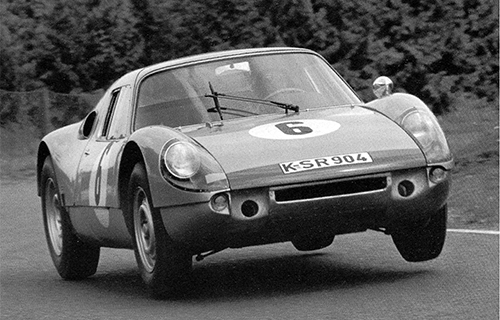 As racers, the 904s had phenomenal finishing percentages, including near 100% at LeMans over 2 years, with 5 cars entered each year. Also the Carreras finished 1-2 OVERALL in 1964 at the Targa Florio. The 1965 arrival of the Ferrari 166 convinced Porsche it would need a better mousetrap going forward in the under 2L division. (That mousetrap would be the very successful Carrera 906).
The Stone
The opportunity came up to acquire orange calcite. This is an interesting stone that is translucent when thin, and also lightens in color when thin. Like onyx, orange calcite can also be heat stressed to produce a veining pattern within (employed through the rear half of this sculpture to lessen the monochrome orange presence).
Orange stone. What cars are a natural fit for an orange livery? Any McLaren……most any Lamborghini…… but is there a specific car even more iconically fitting to this color? Orange is the racing color of the Netherlands. Spyker perhaps? Then it came to me……Ben Pon!
Readers of Janos Wimpffen's two-volume sports car racing reference tome Time & Two Seats (and I've read them cover-to-cover), may recall how successful the Dutch importer / privateer Ben Pon was in Porsche 904s during 1964 and 1965. Of course, as a Dutch entrant his 904 usually had an orange livery. (Mr. Pon turns 80 years old later this year and lives down the road in Carmel Valley, California.)
While Ford and Ferrari duked it out for overall race honors in the big-bore GT and Prototype Classes, Pon's four-cylinder U2 Litre GT quietly put many of them to shame. Pon often shaded all of the Porsche factory 904/6 and 904/8 cars too. Some of his more famous finishes……
1964 Nurburgring 1000 KM      3rd Overall
1964 LeMans 24 Hours               8th Overall
1964 Reims 12 Hours                   7th Overall
1965 Monza 1000 KM                  4th Overall
1965 Spa 500 KM                          3rd Overall
The name Porsche bestowed on the model was "Carrera GTS", though most refer to it as the Porsche internal project title of "904".